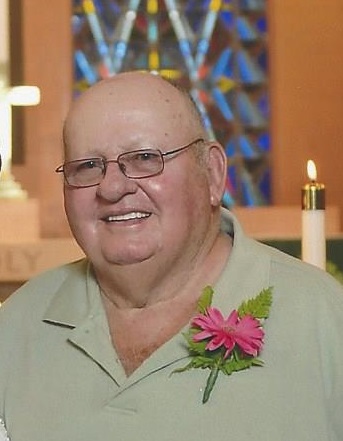 Lewis M. Andersen
Lewis Marvin Andersen, age 83, of the Town of Poy Sippi, died peacefully on Tuesday, March 20, 2018, at home surrounded by his family.
He was born December 7, 1934, at home on the family farm in Waushara County, the son of James and Matilda Jensen Andersen. Lewie attended Berlin High School and served his country in the U.S. Navy Reserves. On September 8, 1959, he was united in marriage to Marcia Thompson in Waukegan, IL.
Lewie was a dairy farmer in the Town of Poy Sippi all his life and hauled milk for many years. He wrestled in area wrestling matches, was an avid hunter, and enjoyed bowling with his family. Lewie was a member of First Lutheran Church in Poy Sippi and was the last surviving member from the construction of the building. He was also a member of the Poy Sippi Volunteer Fire Department.
He is survived by his six children, Carol (Lauri) Andersen, Tom (Tammy) Andersen, Patty Andersen, Linda Nitzke, Joe Andersen, and Jeanne Theune; eight grandchildren, Caitlin (Mitch) Yahr, Jacob Nitzke (Abby Clark), Bradley Nitzke (fiancé, Katie Vlachina), Matthew Theune, Shawn (Samantha) Andersen, Brandon Andersen (fiancé Sara Hoffman), Megan Andersen, and Amanda (Nathan) Michalski; and six great-grandchildren, April, Kira, Delton, Lincoln, Ian, and Bo. Lewie was preceded in death by his parents; wife, Marcia; infant granddaughter, Samantha Andersen; daughter-in-law, Jacqueline "Jackie" Andersen; brother, Elwin (Margaret) Andersen; and five sisters, Irene (James) Thompson, Freida (Harold) Neitzke, Joyce (Felix) Resop, Lois Dutcher, and Ardell (Del) Ernst.
Visitation will be held on Saturday, March 24, from 10:00 a.m. to 1:00 p.m., at First Lutheran Church in Poy Sippi, followed by funeral services at 1:00 p.m., with Rev. Scott T. Piper officiating. Interment will be in Brushville Cemetery. Arrangements have been entrusted to Barbola Funeral Chapel of Berlin. Memorials may be directed to ThedaCare at Home or Poy Sippi Volunteer Fire Department. The family wishes to express a special thank you to Pastor W. Paul Brinkman and ThedaCare at Home.
Online condolences may submitted and sent using the form below. You may also email condolences to the family through "barbolafc@yahoo.com". All condolences are private and sent only to the family.