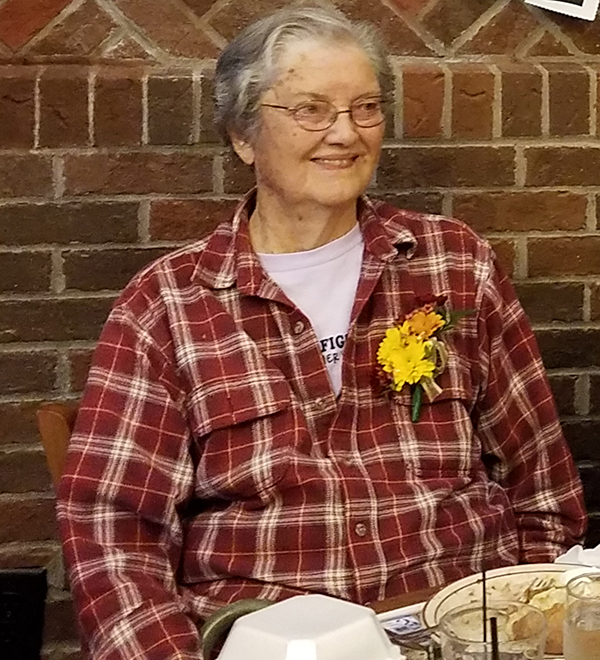 Nancy A. Moriearty
Nancy Moriearty (nee Evans), age 85, of Berlin, WI passed away on Saturday, July 1, 2017 due to complications from breast cancer.
She was born September 12, 1931 on the family farm in Waushara County, the daughter of Alfred and Amy Priest Evans. Growing up on the Evans family farm, she enjoyed playing with the baby goats and had the childhood nickname "Nanny Goat".
She attended Spoor School through 8th grade and was a 1949 graduate of Berlin High School. On November 3, 1956 Nancy was united in marriage to John Moriearty and celebrated 60 years of marriage with family last November.
Nancy enjoyed fun times at the family cottage with her children, grandchildren, and great-grandchildren and trips to the casino where she was often lucky. In her free time she loved to read, especially Danielle Steele books. She also loved to knit and the entire family always had warm slippers made by Grandma. Those slippers made it around the world with the grandchildren and their friends. That love of knitting was passed down to some of the grandchildren.
She is survived by her husband, John Moriearty; children, Ron (Mary) Moriearty, Loren (Laura) Moriearty, and Linda (Joe) Helmuth; thirteen grandchildren, Rachel Haase, Bradley (Lakeisha) Haase, Danielle Schroeder, Evan Schroeder, Sean (Erin) Moriearty, Patrick Moriearty, Erin Moriearty, Stephanie Moriearty, Ryan Moriearty, Nathaniel Helmuth, Andrew Helmuth, Mackenzie Helmuth and Brandon Helmuth; 6 great-grandchildren; sisters-in-law, Beverly Evans, Eleanor Evans and Ann Evans; and brothers-in-law, Phil Moriearty and Denis (Bev) Moriearty. Nancy was preceded in death by her parents; three sisters, Gwen Brewer, Eleanor (Harold) Nipko and Leola Evans; three brothers, Warren Evans, Rollin Evans and Alfred "Leroy" Evans; two sisters-in-law, Ruth Moriearty (Gordon) Wilson, Rose Moriearty (Joe) Berken and Grace Moriearty; and her many schnauzers.
Visitation will be held on Saturday, July 8, 2017 from 9:30 a.m. to 11:00 a.m. at Barbola Funeral Chapel in Berlin. Funeral services will be held Saturday at 11:00 a.m. at the funeral chapel. Interment will be in Welsh Cemetery. Memorials may be directed to ThedaCare-Berlin Helping Hands for Cancer.
Online condolences may submitted and sent using the form below. You may also email condolences to the family through "barbolafc@yahoo.com". All condolences are private and sent only to the family.