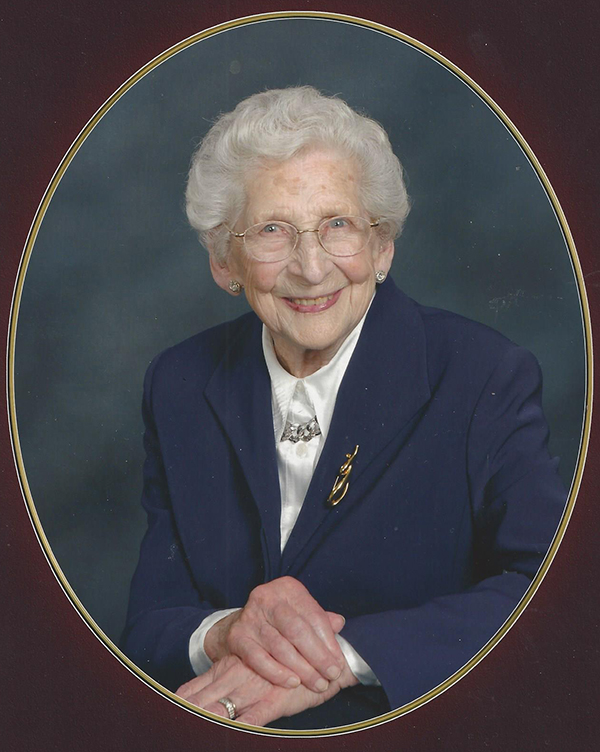 Dorothy E. McMonigal
Dorothy Elizabeth (Nimis) McMonigal, age 104, died Sunday, July 16, 2017 at Froedtert Hospital in Milwaukee after a brief illness. Dorothy was a longtime resident of Berlin where she enjoyed looking out at Nathan Strong Park from her home.
Dorothy was born May 10, 1913 in St. Paul, MN to Carl T. Nimis and Bertha E. Remer. She was proud to share that her father, a prominent electrical pioneer, was first to electrify the Statue of Liberty in 1897 and listed 'Tommy' Edison, Nicola Tesla and Charles Steinmetz among his friends. On June 1, 1935, Dorothy was united in marriage to James L. McMonigal in St. Paul, MN. They moved to Milwaukee and, in 1940, to Berlin where James opened a law practice.
Dorothy was a longtime member of St. Joseph Parish, now All Saints, in Berlin where she was active in many church groups including Catholic Daughters, Sanctuary Society and others as the parish needs required. She was a very religious person, generous in support of seminarian education and other Catholic causes. In the early days of St. Joseph Catholic School, Dorothy frequently loaned her car to the resident nuns to run their errands after first teaching them how to drive.
An accomplished musician from an early age, Dorothy was skilled in both the piano and violin. Throughout her life, she played for her family's enjoyment and occasionally at public events in Berlin. Dorothy loved golfing, playing bridge and caring for her house and yard. She was a longtime member of Mascoutin Country Club and its ladies league. She played golf on a regular basis until age 95 when she 'gave it up' because she no longer had golf partners 'in her age group'! She was an avid, assertive – and successful – bridge player and participated in the same bridge club for over 65 years. She lived in and maintained her own home until age 99 when she entered assisted living. She also drove her car well into her 90's until she 'decided it was time'.
Dorothy is survived by her 6 children, Virginia (Robert) Peters, James (Glenne) McMonigal, Richard McMonigal, Dorothy Wilkinson, William "Mike" (Fay) McMonigal and Mary Pat (Tim) Bushnell; 16 grandchildren and 19 great-grandchildren. Dorothy was preceded in death by her husband, James, on June 16, 1997; a grandson, John Peters; and by her 8 siblings.
Visitation will be held at Barbola Funeral Chapel in Berlin on Saturday, July 22, 2017 from 10:30 a.m. to 12:30 pm. Mass of Christian Burial will be held at All Saints Parish, Hwy 49 South in Berlin at 1:00 p.m., Father David Greenfield officiating. Interment will follow at Oakwood Cemetery in Berlin. In lieu of flowers, the family suggests memorials to the Berlin Catholic School Endowment, the St. Lawrence Seminary or your personal choice.
Online condolences may submitted and sent using the form below. You may also email condolences to the family through "barbolafc@yahoo.com". All condolences are private and sent only to the family.