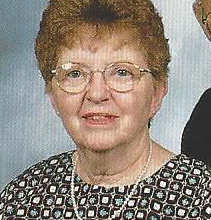 Donna M. Kopitzke
Donna Mae Kopitzke, age 80, of Berlin, died unexpectedly on Monday, July 10, 2017 at ThedaCare Medical Center-Berlin.
She was born September 6, 1936, in Waushara County, WI, the daughter of Richard and Hilda Novak Chamberlin. On February 15, 1958, she was united in marriage to David Kopitzke at St. John Lutheran Church in Berlin.
Donna worked in Redgranite for Mosier's Sporting Goods, Lela's Beverage Mart and Piggly Wiggly. She also worked many years at Steele's Restaurant in Berlin. Donna was a member of Trinity Lutheran Church of Borth, holding the position of Ladies Aid Treasurer.
She is survived by 3 children, Debra (Donald) Clausen, Douglas (Robin) Kopitzke and Diana (Dennis) Hunt; 4 grandsons, Jason Kopitzke, David (Angela) Kopitzke, Chris (Melinda) Clausen and Rick (Jen) Clausen; a step-grandson, Curtis (Ashley) Hunt; 6 great-grandchildren, Nicole, Austin, Devon, Edward, Parker and Nolan; 10 brothers and sisters, Mary Lou Recore, John (Andee) Chamberlin, Bessie (Adrian) Laude, Pat (Carol) Chamberlin, Thomas (Jan) Chamberlin, Barbara (Harry) Underberg, Richard (Pam) Chamberlin, David (Debbie) Chamberlin, Mike Chamberlin (Kathy Chamberlin) and Arlene Anderson (Mike Mosier); and many nieces and nephews. Donna was preceded in death by her husband, David, on June 9, 2008; her parents; a grandson, John Kopitzke; and a brother, Phillip Chamberlin.
Funeral services will be held Friday, July 14, 2017 at 11:30 a.m. at Immanuel Lutheran Church in Auroraville, the Rev. Brian Beardsley officiating. Visitation will be held at the church on Friday from 9:30 a.m. until the time of services. Interment will be in Brushville Cemetery in the Town of Bloomfield. Arrangements have been entrusted to Barbola Funeral Chapel of Berlin.
The family extends special thanks to Valerie and the ICU Dept. at ThedaCare Medical Center-Berlin and Mary Lou Recore for her support and caring.
Online condolences may submitted and sent using the form below. You may also email condolences to the family through "barbolafc@yahoo.com". All condolences are private and sent only to the family.