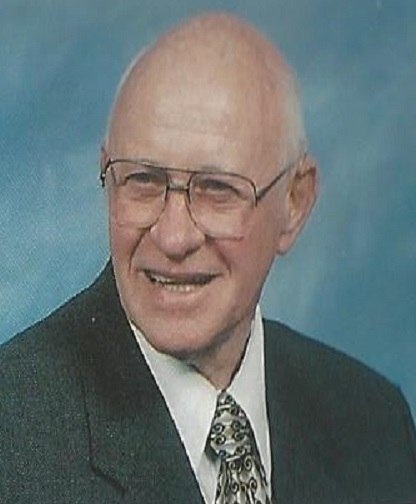 Warren R. Anderson
Warren Richard Anderson, age 89, of Berlin, died peacefully on Tuesday, January 9, 2018 at Park View Health Center in Oshkosh.
He was born April 6, 1928, in Chicago, IL, the son of Norman and Wanda Fessenden Anderson. Warren graduated from Edgerton High School, and attended UW Madison. He served his country in the U.S. Navy from 1946-48. On January 6, 1951, he was united in marriage to Joan Reed. "Andy" was employed for over 33 years at Wisconsin Power & Light Co. He was a faithful member of Grace English Lutheran Church, where he served in many capacities through the years. Warren was a Boy Scout leader for most of his adult life, serving as District Advancement Chairman for the Bay Lakes Council, and had a hobby of woodworking.
Warren is survived by two sons, Gerald (Karen) Anderson and James (Loreli) Anderson; two daughters, Lyssa (Steve) Koscher and Mary (Steve) Greve; grandchildren, Jennifer (Justin) Keyt, Ian Anderson, Olen (Connie) Anderson, Matthew Anderson, Joshua (Hannah) Koscher, Ben (Courtney) Greve, and Jessica Greve; great-grandchildren, Samantha, Tevin, Jackson, Cameron, Averie, Adayln, Cadence, Lauren, Linnea, and Lillian; sister, Marilyn (Peter) Rudd; brother-in-law, Jack (Betty) Reed; sister-in-law, Betty; and several nieces and nephews. He was preceded in death by his parents; his wife, Joan, on August 19, 1992; and a brother, Clifford.
Funeral services will be held on Monday, January 15, 2018, at 11:00 a.m., at Grace English Lutheran Church, Rev. Scott T. Piper officiating. Interment with Military Honors will be in Oakwood Cemetery. Friends and relatives may call on Sunday, January 14, from 3:00 p.m. to 5:00 p.m., at Barbola Funeral Chapel, and on Monday at the church from 10:00 a.m. until the time of services. Memorials may be directed to Grace English Lutheran Church or Boy Scouts of America.
Online condolences may submitted and sent using the form below. You may also email condolences to the family through "barbolafc@yahoo.com". All condolences are private and sent only to the family.