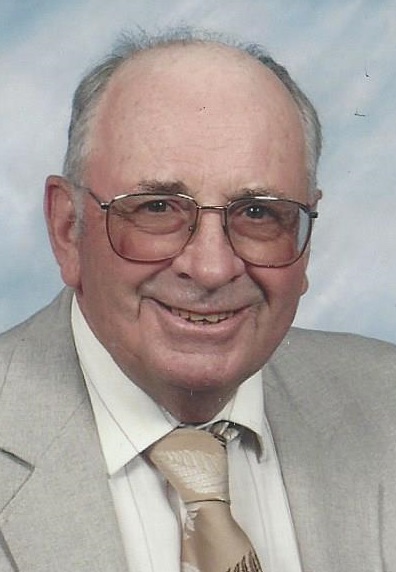 Russell E. Young
Russell Edward Young, age 83, died peacefully on Saturday, December 30, 2017, at home in the Township of Leon.
He was born May 8, 1934, in Berlin, the son of Donald and Erna Weiland Young. Russell was a 1952 graduate of Berlin High School. On April 7, 1956, he was united in marriage to Ruth Smietanski at Grace Lutheran Church in Omro.
Russell was a loyal husband, devoted father, proud dairy farmer, and enjoyed volunteering at the Second Time Around Shop in Berlin. He was Sexton and member on the Pine Grove Cemetery Board and a member of Immanuel Lutheran Church in Auroraville, serving as an Elder for many years.
He is survived by his wife, Ruth; two sons, Steven Young and Alan Young; two daughters, Donna (Wesley) Hilgart and Marjorie (Randy) Loehrke; ten grandchildren, Jason (Tracy) Young, Adam (Kayla) Young, Heidi (Cory) Wagner, LuAnn Hilgart, Brian Loehrke, Trisha Loehrke, Stephanie Loehrke (fiancé Cory Woller), Brandon Loehrke, Krista Phillipe, and Cody Young; 16 great-grandchildren, Alex, Aiden, Ryan, Lexie, Cameron, Logan, Kadin, Brynlee, Ethan, Jalyn, Ebrielle, Braelynn, Zander, Evan, Hailey, and Bella; and two sisters, Florence Bettin and Sandra Young. Russell was preceded in death by his parents; grandson, Travis Hilgart; and brother-in-law, Bill Bettin.
Visitation will be held on Thursday, January 4, 2018, from 9:30 a.m. to 11:00 a.m., at Immanuel Lutheran Church in Auroraville, followed by Funeral Services at 11:00 a.m., Rev. Brian Beardsley officiating. Interment will be in Pine Grove Cemetery. Arrangements have been entrusted to Barbola Funeral Chapel of Berlin.
Online condolences may submitted and sent using the form below. You may also email condolences to the family through "barbolafc@yahoo.com". All condolences are private and sent only to the family.