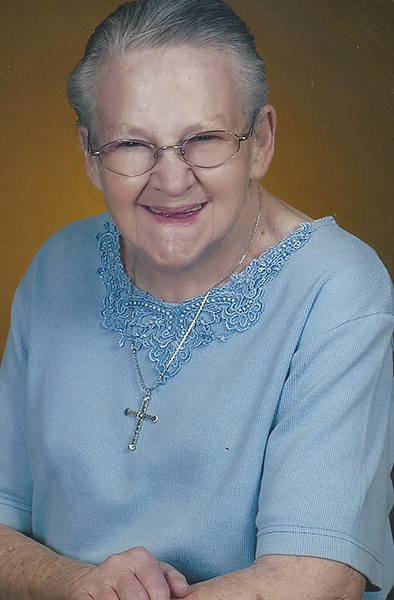 Mildred L. Struve
Mildred Lucy Benning Struve entered Heaven's Gate on Friday, December 23, 2016 after many months of suffering from a number of medical issues. Mildred's mind and faith were strong but as her body grew weaker, her prayer was that God would take her to Heaven where Gerald, her husband would welcome her with open arms. It was Mildred's wish that she remain in her own home with the Lord taking her as she slept…her wish was granted.
She was born March 13, 1927, the eldest of five daughters to Lloyd and Lucy Jons Benning in McFadden, Wyoming. Mildred was the oldest granddaughter of Peter Jons on her maternal side from Wyoming. The Jons family were widely known for their cattle ranching and western life style. That's where her love for reading westerns came. She was baptized on March 27, 1932 at the Methodist Church in Harlan, Iowa. On December 5, 1946 she was united in marriage to Gerald Struve in Audubon, Iowa. He preceded her in death on December 17, 1999.
Due to her husband's employment, Mildred and their six children lived in 14 places, 7 states and eventually moved to the Ripon area in 1974. Mildred worked in a number of jobs before finding her niche in baking. Her professional baking career began at Ripon College. She also was the head baker for the former Golden Oven and Grey Fox Restaurant in Oshkosh, and UW-Oshkosh. The Christmas season was her favorite time of year. She loved making dozens of different kinds of cookies and sharing with her family.
Mildred always started her day with a good morning prayer feeling God would bless each thing she did and keeping her in His care. She and Gerald made their home in Poy Sippi, WI in 1991 where she became very involved with the Methodist Church working as the custodian for many years, making banners and even on occasion playing the piano. She had a very strong faith. She was also active with Waushara County 4-H, working in the youth building for many years and was recognized in 2000 with the Outstanding Senior Citizen Award. She became one of Poy Sippi Library's best customer reading three to five books a week. She was a Sunday School teacher and also a Girl Scout Leader. Her most recent activity was to knit baby booties (lavender-her favorite color) for Bella Medical Clinic.
She was determined to recover from her illnesses this year so she could witness the birth of 5 great-grandchildren and attend her granddaughter's wedding. She was praying she would be here in April 2017, for her grandson's wedding but that wasn't in His plan for her.
Mildred is survived by her six children, Catherine Benish, Jean (Robert) Boudah, Deborah (Jeffry) Gabrilska, James (Kathleen) Struve, Elizabeth Struve, and Patricia (Steven) Lisko; her grandchildren which brought her great joy, Natale, Jessica (Jason), Neal, Christine (Christopher), Robert, Sarah (Kurt), Joshua (Amber), Nicole (Aaron), Jacob (Christi), Catrina (Michael), Rebeccah (Matthew), Stephen, Jason (Janelle), Tiffany (Andy), Bobbilynn (Paul), and Lisa (Jason); great-grandchildren, Olivia, Benjamin, Christian, Gage, Clara, Alexander, Lauren, Lane, Lucy, Kayla, Gavin, Scarlett, Abigail, Kody, Kenna, Kelsey, Clara, Aria, Joshua, and Samuel; younger sister, Frances Schultz; and many nieces, nephews, and Wyoming cousins. Mildred was preceded in death by her parents; infant sister, Vera Rose; sisters, Betty Aschbrenner and June Hockens, and son-in-law, Roger Benish.
Funeral services will be held Thursday, December 29, 2016 at 11:00 a.m. at Poy Sippi United Methodist Church, the Rev. George Groves officiating. Interment will be in Brushville Cemetery. Friends and relatives may call on Wednesday, December 28 from 4:00 p.m. to 7:00 p.m. at the church in Poy Sippi and at the church one hour prior to the services. Arrangements have been entrusted to Barbola Funeral Chapel of Berlin. Memorials may be directed to the Poy Sippi Library.
Online condolences may submitted and sent using the form below. You may also email condolences to the family through "barbolafc@yahoo.com". All condolences are private and sent only to the family.