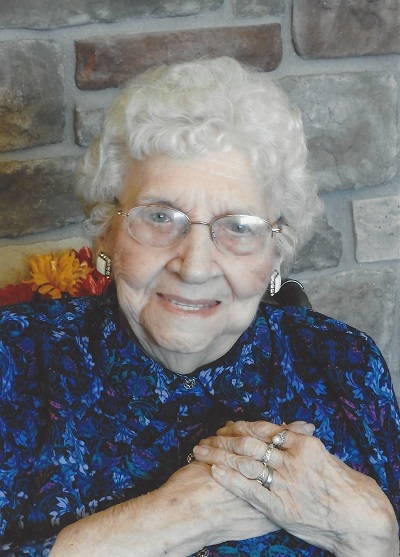 Frances T. Bednarek
Frances T. Bednarek Frances Theresa Bednarek, age 92, of Berlin, died peacefully on Monday, December 11, 2017, at Patriot Place in Berlin.
She was born April 1, 1925, in Berlin, the daughter of Max and Mary Markurat Piotrowski. On September 3, 1949, she was united in marriage to Eugene Bednarek at St. Stanislaus Catholic Church. Frances was a member of All Saints Catholic Parish.
Frances is survived by her two sons, Stan (Sue) Bednarek and their son, Brad; and son, Gary Bednarek; three grandchildren, Jessica, Hannah, and Desiree; brother, Norbert Piotrowski; two sisters, Alice (Ervin) Fay and Lucille Hibicki; special niece, Deb Beulen; and many nieces and nephews. She was preceded in death by her husband, Eugene, on March 15, 2013; brother, Paul Piotrowski; and sisters, Grace Hoinacki, Florence Bushweiler, and Rosalie Beulen.
Visitation will be held on Friday, December 15, 2017, from 9:00 a.m. to 10:15 a.m., at Barbola Funeral Chapel in Berlin followed by Mass of Christian Burial at All Saints Catholic Parish at 10:30 a.m., with Father David Greenfield officiating. Interment will be in St. Stanislaus Catholic Cemetery. A memorial has been established.
Online condolences may submitted and sent using the form below. You may also email condolences to the family through "barbolafc@yahoo.com". All condolences are private and sent only to the family.