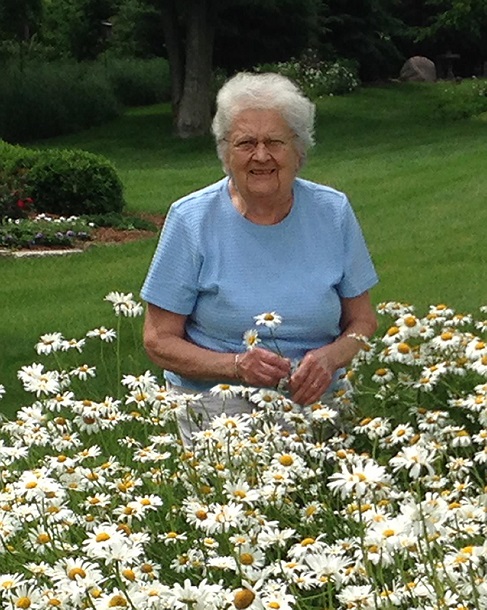 Bernice Hurley Reading
Bernice Hurley Reading, age 91, of Green Lake, was born into glory on Monday, April 2, 2018, at home.
She was born June 18, 1926, in Arlington Heights, IL, the daughter of Louis and Martha Elendt Bornkamp. On June 19, 1948, she was united in marriage to James J. Hurley until the time of his death on October 26, 1986. She later married Louis A. Reading on July 14, 1990. He preceded her in death on July 31, 2011. Bernice worked as a registered nurse for over 20 years, in addition to her many years of volunteer work for Agnesian Hospice Hope. She was an active member of Grace English Lutheran Church in Berlin.
Bernice is survived by her son, Keith Hurley; daughter, Kathy Hurley Paris; grandchildren, Charles (Christine) Hurley and Liz Flores (Tony); great-grandchildren, JJ, Connor, Emilie, Fisher, Grace, TJ, and Brianna; sister, Gertrude Markstrom; step-granddaughter, Michelle (Jeff); step-great-granddaughters, Abby, Emily, Anna, and Zizi. She is further survived by Lou's family, sons, Doug (Pam) Reading, Don (Suzy) Reading, and Charlie Reading; and grandsons, Michael (Bristol) and Nick.
Visitation will be held on Wednesday, April 4, from 4:00 p.m. to 7:00 p.m., at Barbola Funeral Chapel in Berlin, and on Thursday at the church one hour prior to the services. Funeral services will be held Thursday, April 5, at 11:00 a.m., at Grace English Lutheran Church in Berlin, Rev. Scott T. Piper officiating. Interment will be in Memory Gardens Cemetery in Arlington Heights, IL. In lieu of flowers, memorials may be directed to Agnesian Hospice Hope of Green Lake, Grace English Lutheran Church or the charity of your choice.
Online condolences may submitted and sent using the form below. You may also email condolences to the family through "barbolafc@yahoo.com". All condolences are private and sent only to the family.